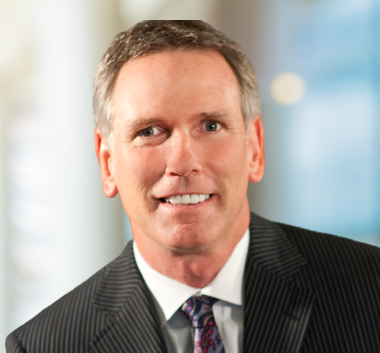 Dan Drawbaugh
CHIEF EXECUTIVE OFFICER, THE STEADMAN CLINIC
Dan Drawbaugh is Chief Executive Officer of The Steadman Clinic (TSC) and Steadman Philippon Research Institute (SPRI) in Vail, Colorado. As CEO, Drawbaugh leads a team of talented physicians, researchers, scientists and administrators who make TSC and SPRI one of the most sought-after orthopaedic sports medicine destination centers globally, where world-class medicine and world-class research strategically align.
Since becoming CEO in January 2015, Drawbaugh has presided over key growth initiatives that are delivering impressive results, including a strategic affiliation with Varsity Healthcare Partners—a leading healthcare private equity group—in 2019 and a partnership with Aspen Valley Hospital in 2020, which led to the December 2020 opening of The Steadman Clinic, Aspen. Drawbaugh is currently overseeing additional expansions of TSC in Dillon, Colorado (opening August 2021) and TSC and SPRI in Basalt, Colorado (opening January 2022). The Dillon and Basalt expansions include state-of-the-art ambulatory surgery centers, complementing cutting-edge medical office space and a SPRI regenerative medicine laboratory in Basalt that will conduct research and enroll patients into SPRI's federally funded clinical trials from the National Institutes of Health (NIH) and Department of Defense (DoD). These expansions secure TSC and SPRI as the premier provider of sports medicine care and research in western Colorado, and it continues to be a destination health center for patients from all over the United States and abroad.
Building upon more than two decades of pioneering sports medicine innovation and research, Drawbaugh presided over the TSC flagship in Vail expansion into a new, state-of-the-art Sports Medicine Clinic. SPRI also moved into a new, state-of-the-art Research Center comprised of a Regenerative and Translational Medicine Research Lab, Surgical Skills Lab, Biomechanical Lab and Biomotion Lab that operate in partnership with internationally recognized scientists and research institutions. By establishing this new Research Center, SPRI is exponentially expanding the capabilities of its research programs to create valuable and life-changing clinical innovations in sports medicine. With a legacy of philanthropic funding, SPRI has expanded to include support from major federal agencies—the NIH and DoD—a key initiative from Drawbaugh. These agencies are funding five, multi-year clinical trials and involve elite physicians from TSC and leading scientists from SPRI. Under Drawbaugh's leadership, TSC launched two new business service lines—ProofPoint Biologics and Durable Medical Equipment—and transitioned its Frisco, Colorado clinic into a brand-new, state-of-the-art facility at the Basecamp Center in 2018.
As CEO of TSC and SPRI, Drawbaugh strategically expanded the organization's partnership with Vail Health, as the two groundbreaking medical facilities entered into a $43 million, 10-year research partnership to continue to advance the organization's global prominence in sports and orthopaedic medicine through investments in research capabilities and new scientific research facilities.
Under Drawbaugh' s leadership, TSC continues to expand its acclaimed team of surgeons and physicians, including recent additions such as noted joint replacement specialists Dr. Raymond Kim and Dr. Joel Matta, former New England Patriots team physician Dr. Matthew Provencher, former Denver Nuggets team physician Dr. Armando Vidal, foot and ankle specialist Dr. C. Thomas Haytmanek, internist and perioperative medicine specialist Dr. David Kuppersmith, esteemed shoulder, hip and knee surgeon Dr. Leslie Vidal, former SPRI fellow and noted surgeon Dr. Jonathan Godin and hand, wrist and elbow surgeon Dr. Kavi Sachar. In addition to these surgeons practicing in TSC Vail, Frisco and Edwards, Drawbaugh was also instrumental in the recruitment of the five physicians in the new Aspen clinic, including medical director Dr. Jared Lee, Dr. Waqqar Khan-Farooqi, Dr. Thea Wojtkowski, Dr. Dustin Anderson and Dr. Joseph Ruzbarsky.
Drawbaugh is a proven leader and innovator in healthcare information technology with over 30 years of experience in the areas of information and biomedical technologies. Drawbaugh joined TSC and SPRI from the University of Pittsburgh Medical Center, where he held the position of Chief Information Officer and other positions for 31 years. He earned a bachelor's degree in biomedical and electrical engineering technology from Temple University and an MBA from Duquesne University.
Using his entrepreneurial know-how, Drawbaugh has cultivated an outstanding track record of building lasting, revenue-generating partnerships. He has served on a number of boards, including the Oracle Advisory Board, IBM Advisory Board and Verizon Wireless Advisory Board.