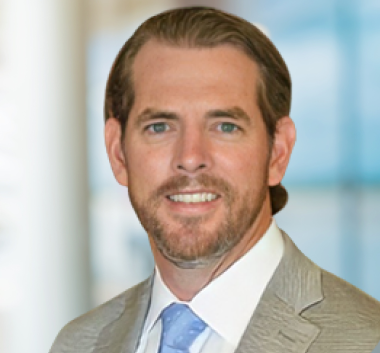 David King, M.D.
Dr. King was raised in Atlanta, Georgia. He attended the University of Virginia where he received a Bachelor of Arts in 1997 as an honors major in neuroscience. He received his medical degree from Emory University School of Medicine in Atlanta, Georgia in 2001. Dr. King completed a five-year residency in orthopedic surgery at Washington University School of Medicine/ Barnes-Jewish Hospital in St. Louis, Missouri. During this time, he participated in the care of the St. Louis Rams, St. Louis Cardinals and Washington University Bears. As Chief Resident, he also completed medical evaluations at the 2006 NFL Combine.
Dr. King completed a sports medicine fellowship at the Steadman Hawkins Clinic in Vail, Colorado. His fellowship focused on the treatment of injuries to the shoulder, elbow and knee, with a special emphasis on arthroscopic treatment of hip impingement, labral tears, cartilage injuries and other abnormalities. He spent extensive time training with Dr. Marc Philippon, a pioneer in hip arthroscopy. While in Vail, Dr. King provided care for the United States Ski and Snowboard teams. In addition, he performed hip arthroscopy on numerous professional athletes in the NFL, Premier Soccer League and NHL.
Dr. King has extensive and specialized training in orthopedic surgery, sports medicine, and hip arthroscopy. His emphasis is on arthroscopic and open surgery of the hip, shoulder, elbow and knee. Dr. King has a unique interest in arthroscopic treatment of hip pathology that may one day be shown to prevent or delay the onset of hip arthritis in adolescent, young adult and adult hips. He addresses hip impingement and labral tears with arthroscopic labral repair, using bioabsorbable bone anchors similar to those used in shoulder surgery. He also removes the bony abnormalities associated with this condition entirely through the arthroscope. Dr. King also performs hip resurfacing and total joint replacement for patients with advanced arthritis that cannot be treated with arthroscopy.
Dr. King recently served as an Associate Master Instructor at the AANA Hip Arthroscopy Course in Chicago. He was involved in teaching and instructing other board certified orthopedic surgeons in the techniques of hip arthroscopy and hip labral repair.
Throughout his academic career, Dr. King has had substantial involvement in orthopedic research. Specific projects have focused on advances in hip arthroscopy, cartilage regeneration, shoulder replacement surgery and lower extremity deformity correction. His studies have been published in the Journal of Bone and Joint Surgery, Techniques in Sports Medicine and Techniques in Arthroplasty and also earned him the Leonard Marmor Foundation Award while at Washington University.